Using the Borderlands Avian Data Center
Open Access Decision Support Tools
Overview
The Borderlands Avian Data Center (BADC) is a regional node of the Avian Knowledge Network (AKN). Whether you are a researcher, student, land manager, or a private citizen with an interest in birds, BADC can help you share, organize, visualize, and analyze bird monitoring data. It can also help you coordinate, streamline, and standardize data entry and protocols.
Anyone can explore publicly available bird monitoring data hosted by BADC. Learn more about our open access Decision Support Tools here.
For registered users, My BADC is your personal data management portal. From here, you can log in and access your data and all of BADC's tools. Read on to learn how to create an account, the different BADC user roles, and the tools available to manage projects and data.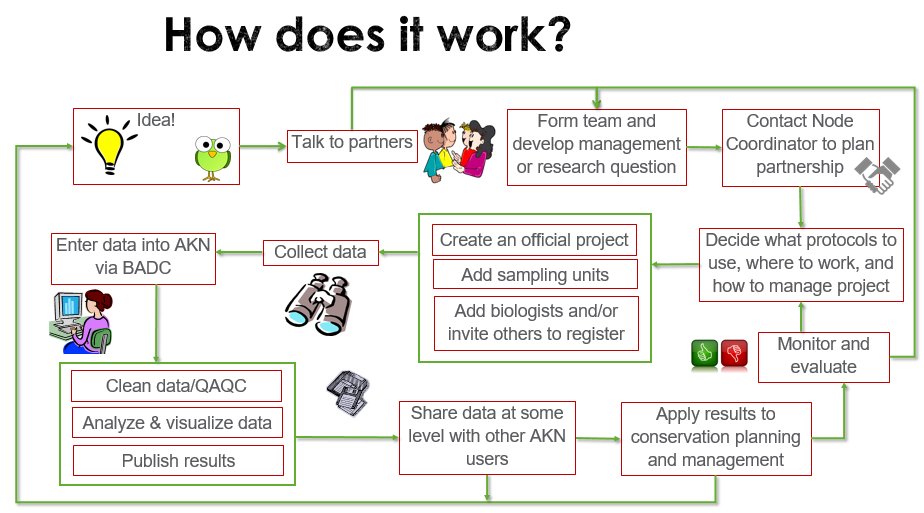 Becoming a Registered User
In order to access My BADC, you must either join an existing project or create a new one. Once you register, you can access tools in this portal. To review existing projects in BADC, first visit the Projects Tab in the navigation menu. If there is a project that matches your work, contact the Project Leader directly to request more information and access to join the project. If you do not find a match, you can search the Data Catalog for additional projects in the Avian Knowledge Network (AKN) that may match your work. If you cannot find what you are looking for, contact your regional Node Coordinator for help, or to discuss the creation of a new project.
To become a registered user for an existing project:
Request the appropriate Project Code for the project you want to join by contacting the Project Leader, or working with your regional Node Coordinator.
Fill out the online application form.
Respond to the automated email you will receive from our system to verify your email and request (this should happen within one day; if you do not receive an automated email, make sure to check your spam folder).
Wait to receive your new login credentials (generally within one week).
Users, Roles, and Projects
My BADC includes three components: users, roles, and projects. Users can be assigned to different roles and to multiple projects. A project is the research study itself. The roles are: "Project Leaders," "Biologists," and "Analysts."
Project Leaders
Project Leaders assign protocols, manage sampling units (areas, points, transects, etc.), manage data, get full exports of their project data from the system, and manage Biologists and Analysts assigned to their projects. Project Leaders also have access to all Biologist and Analyst tools (see below) and set the desired data sharing level, which determines how the data will appear in the various tools in BADC.
Biologists
Biologists enter and proof data for specific projects. This application is the main data management tool for your study data. They can enter new data, review data from previous visits, and correct any errors. When Biologists are finished, they can mark their data as CLEAN.
Analysts
Analysts have access to tools for retrieving and analyzing data. The analyses use Ravian, an open-source statistical programming language in R. The Analyst application provides an interface to conduct standard statistical analyses and visualizations, including things like calculating density, abundance, and species richness. The application uses data that have data sharing level 3, or higher, and where survey efforts were exhaustive (that is, where surveyors included observations of all birds they were able to identify).
Creating a New Project
If a project does not yet exist for your research, you will need to create a new project. Currently, only projects using point count, area search, line transect, or secretive marshbird protocol structures can be easily incorporated into BADC without significant costs.
Before creating a new project, ask yourself the following:
What is your conservation question?
What are the information gaps?
With whom do you need to collaborate?
What analytical outputs or data visualizations do you need?
Is this a long-term or short-term project?
How will a decision maker use your products to implement management actions?
How will you assess your conservation actions?
Once you have these answers in hand, contact the appropriate Node Coordinator to discuss next steps. Creating a new project requires direct communication with system managers, and the project must be based on a monitoring protocol understood by the system. Your regional BADC Node Coordinator can help you determine if your protocols are already in BADC or if additional work (which may involve a cost) is needed to incorporate them.
Data Management Tools
Registered My BADC users have access to data management tools corresponding to their user roles.
Bulk Uploader
Many researchers have years of data stored in various spreadsheets, custom databases, or other formats. The Bulk Uploader allows you to import .csv files of long-term and ongoing datasets to BADC that were initially managed outside of BADC. It is not an appropriate tool for one-off uploads of legacy data (eBird or Google Sheets are likely more appropriate platforms for sharing these kinds of data). All data must match an existing protocol structure in BADC for the Bulk Uploader to work. There may be a cost to get the data into the correct format.
Data Downloader
The Data Downloader allows you to export data from BADC. Download the observation data from your projects through this interface. If your project includes data shared at Level 5 (publicly available), those observations will be available for any registered user to download. Downloaded data from this tool include the most common fields for each survey type. Your extended, custom fields will not be available in these files. Project Leaders can download the full, extended column versions of their data from the Project Leaders application.
Data Catalog
The Data Catalog provides basic information about data sets managed in BADC and the AKN. You can find information about the projects, including geospatial extent and survey type. Depending on the data sharing level chosen by the data owner, you may be able to download the entire dataset, or an abridged version of it. If the data owner has not shared their data publicly, you can find contact information to learn more. For more information about a specific project or to request access, contact the Project Leader or your Node Coordinator. The Data Catalog also includes some data that are not stored in the AKN, but need to be publicly available (for example, data shared for a publication).
Open Access Decision Support Tools
Anyone who visits the BADC website can visualize regional bird monitoring datasets by way of our open access Decision Support Tools—you do not need a user account. These interactive applications allow you to explore publicly available bird monitoring data.
PLuMA: Use this tool to visualize the projected impacts of a changing climate on birds and habitats across northern Mexico and the southwestern United States.
Observations Map: This tool allows you to query, visualize, and investigate bird observation data at surveyed locations via a map interface.
Phenology Tool: This tool provides our best understanding of when birds of interest are most likely to be present in your selected area. By selecting a geographic area and a species of interest, the tool queries the publicly available datasets in BADC. The tool feeds observation data into Abundance and Probability of Presence Models to generate graphs, which provide a summary of what species are present in that area and at what likelihood during different times of the year.
For more information and detailed tutorials, visit our FAQ and User Guides.